Happy October! Autumn turns our little farm into a golden-hued, hazy dream. As September's light fades, the colors go from bronze to orange, and we're all enchanted. Baskets of freshly picked apples and pumpkins brought in from the garden sit in my kitchen, for which I am grateful. We definitely know that fall has knocked on our door when we see the soups and pies make their way to our table. These soups are our favorites around here, and I think they'll soon be your favorites too!
Since I grew up in Spain and lentils are a staple, I introduced them to our family pretty early on. They ask for this lentil stew so often! I usually make it with a ham bone, but meatless is great too. It does well in the freezer, and we eat it with muffins or just baguette slices with pats of butter. This is on the menu for Monday : )
---
This is Nathan's favorite soup of all time. Eva and Isabel have been making it the last couple of times because it always tastes good no matter what : ) Really, we've been skipping the onion and sometimes the cream, and it's still so succulent.
---
This soup is very mild and super delicious! I prefer this recipe over other butternut soup ones, because it doesn't have the added cream. Cream is yummy, but sometimes I want something lighter. We serve it with biscuits or paninis so everyone stays full. Our whole family eats it even though the children wouldn't say they enjoy eating butternut roasted or cooked in other ways. I've also frozen it with good success. A great soup to cook once and eat twice!
---
White Bean and Smoked Sausage Stew
This soup is as easy as a meal can get. You can't beat SEVEN ingredients and a pot that does all the work for you in no-time! I love to serve this white bean and smoked sausage stew hot in generous portions with fresh crusty bread. It makes wonderful leftovers and freezes very well.
---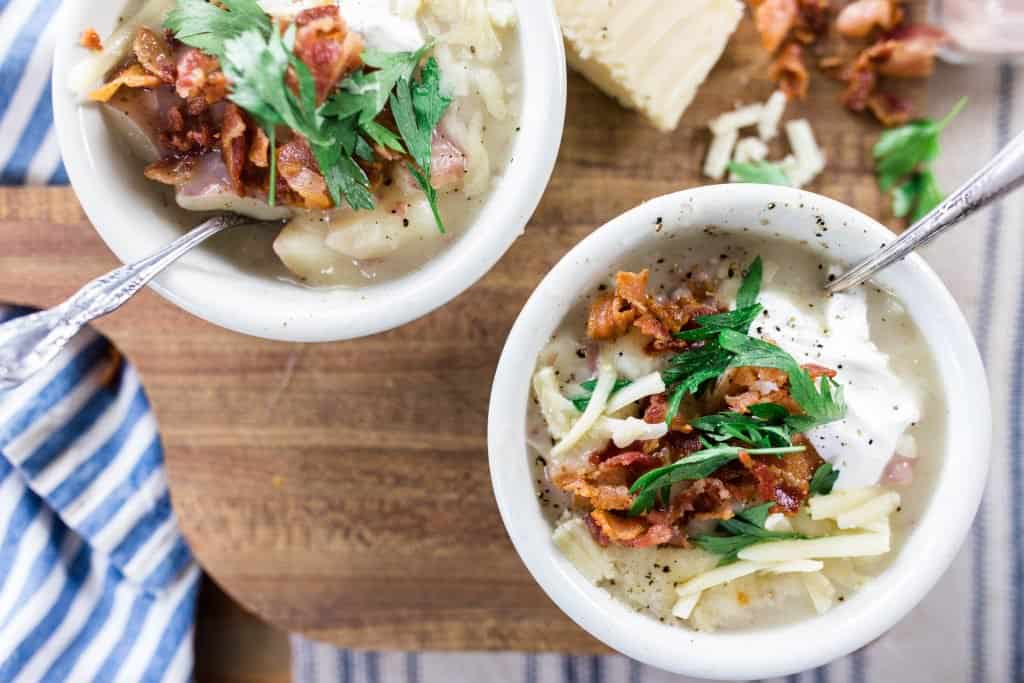 We all love this soup! This recipe is vegetarian if you skip the bacon as a topping. Our family likes the color, texture, and taste of gold potatoes, which is what we use in the recipe. I often make it on a Saturday afternoon to have ready when we come back from church on Sunday. I serve it with biscuits and call it a day. Since it's his favorite, Alexander has made this potato soup for us the last few times. It's really satisfying and flavorful. I have never frozen potato soup, but let me know if you have.
Do you enjoy soups as much as we do? I love preparing them in the morning and either just letting them slow cook in the dutch oven, turn the Instant Pot on and forget about it (it will stay on warm mode for the rest of the day), or even making the soup a couple days in advance (because we all know they taste better t hens to day). Now that the older children are starting to help in the kitchen, soups are a great place for them to begin. Bonus: they're a one pot meal!
Enjoy a hearty and healthy bowl of goodness!
 with love, Damaris